ORGANIC AND WILD-CRAFTED HERBS
COMBINES THE BEST OF THE NEW WITH THE TRIED AND TRUE
» 𝗘𝗦𝗦𝗜𝗔𝗖® 𝗗𝗥𝗢𝗣𝗦 - The Classic Essiac® herbal supplement formula is now available in a convenient concentrated daily drop. The new dropper format is easy to take and Alcohol Free. Each 2 fl oz. (59ml) bottle provides up to a 2-month supply.
» 𝐏𝐎𝐖𝐄𝐑𝐅𝐔𝐋 𝐀𝐍𝐓𝐈𝐎𝐗𝐈𝐃𝐀𝐍𝐓𝐒 - Essiac® is formulated to contain an abundance of powerful antioxidants to aid in promoting overall health and well-being. Since 1922, our Essiac® traditional formulation has contained a proprietary blend of Organic Burdock Root, Organic Sheep Sorrel Whole Herb, Wild Crafted Slippery Elm Bark, and Organic Rhubarb Root.
» 𝐂𝐎𝐍𝐕𝐄𝐍𝐈𝐄𝐍𝐓 𝐃𝐑𝐎𝐏𝐏𝐄𝐑 - Our Essiac® Daily Drops are made by certified herbalists using maceration and cold percolation to preserve the delicate wild plant essences. Simply take 30 drops (1ml) in water once or twice daily as needed.
» 𝟏𝟎𝟎% 𝐏𝐋𝐀𝐍𝐓 𝐁𝐀𝐒𝐄𝐃 – Essiac® natural herbal remedy is made from 100% organic and wild crafted herbs. Essiac® daily drops help to helps normalize the body by aiding in the promotion of effective detoxification*.
» 𝐓𝐇𝐄 𝐎𝐍𝐋𝐘 𝐀𝐔𝐓𝐇𝐄𝐍𝐓𝐈𝐂 𝐄𝐒𝐒𝐈𝐀𝐂® – During the early 1920's, nurse Rene Caisse learned of a formula used by a Canadian Ojibwa Healer. She later prepared her original herbal formula into a drink called Essiac®, which is Nurse Caisse's name spelled backwards, and she dedicated the remainder of her life to caring for patients with her powerful formula.
*These statements have not been evaluated by the Food and Drug Administration. This product is not intended to diagnose, treat, cure or prevent any disease.
» DIRECTIONS FOR USE (ADULTS):
Take 2 mL twice daily for daily use, one hour before or after meals.
For more severe health issues, take 3 mL, three times daily, one hour before or after meals.
For maintenance, 1 mL twice daily, one hour before or after meals.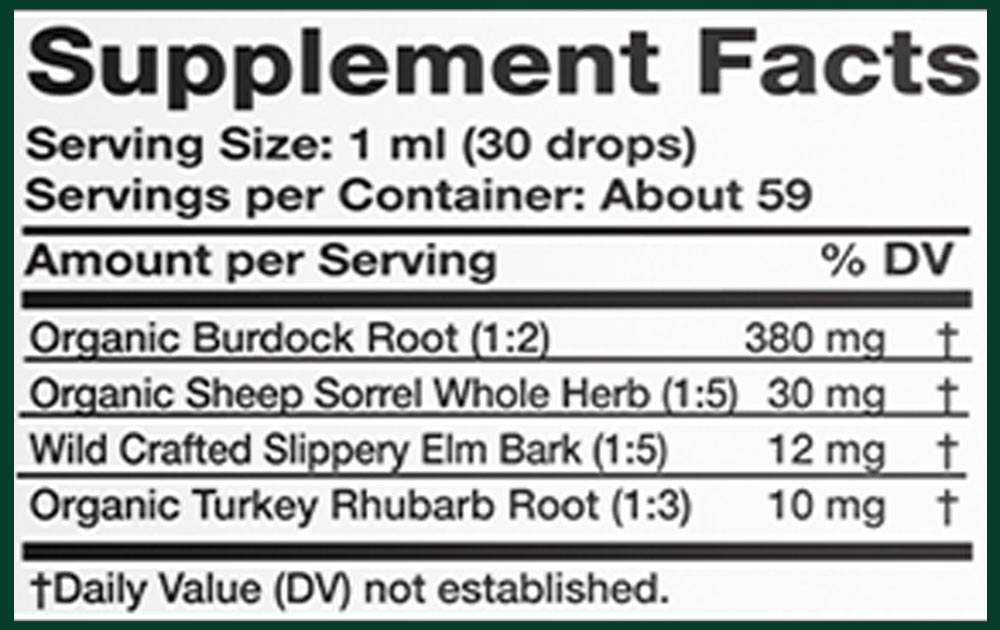 Other Ingredients: Vegetable Glycerin, Deionized Water.
DO NOT TAKE IF PREGNANT.