COMBINES THE BEST OF THE NEW
WITH THE TRIED AND TRUE
COMBINES THE BEST OF THE NEW WITH THE TRIED AND TRUE
» 𝐏𝐎𝐖𝐄𝐑𝐅𝐔𝐋 𝐈𝐌𝐌𝐔𝐍𝐄 𝐒𝐔𝐏𝐏𝐎𝐑𝐓 – Essiac Gold™ helps support the immune system and normalize the body by aiding in the promotion of effective detoxification.* Nearly 100 years later, Essiac Gold™ takes the original blend of Burdock Root Extract, Whole Plant Sheep Sorrel Extract, Slippery Elm Bark Extract, and Rhubarb Root Extract and enhances it by adding AHCC®.
» 𝐒𝐔𝐏𝐏𝐎𝐑𝐓𝐒 𝐈𝐌𝐌𝐔𝐍𝐄 𝐇𝐄𝐀𝐋𝐓𝐇, 𝐋𝐎𝐍𝐆𝐄𝐕𝐈𝐓𝐘 & 𝐍𝐊 𝐂𝐄𝐋𝐋 𝐀𝐂𝐓𝐈𝐕𝐈𝐓𝐘 – The AHCC® in Essiac Gold™ has been found through over 30 human clinical trials to support immune health, promote macrophage activity, T-cell and NK cell activity and longevity.
» 𝐐𝐔𝐈𝐂𝐊 𝐀𝐍𝐃 𝐂𝐎𝐍𝐕𝐄𝐍𝐈𝐄𝐍𝐓 - Unlike the traditional Essiac® herbal tea powder, there is no need to brew as the vital plant nutrients have already been extracted into a powerful herbal capsule that is 4x to 6x more concentrated than the brewed tea. The herbs are macerated, then the vital plant nutrients are extracted at low temperatures to ensure maximum potency and superior absorption.
» 𝐓𝐇𝐄 𝐎𝐍𝐋𝐘 𝐀𝐔𝐓𝐇𝐄𝐍𝐓𝐈𝐂 𝐄𝐒𝐒𝐈𝐀𝐂® – During the early 1920's, nurse Rene Caisse learned of a formula used by a Canadian Ojibwa Healer. She later prepared her original herbal formula into a drink called Essiac®, which is Nurse Caisse's name spelled backwards, and she dedicated the remainder of her life to perfecting her powerful formula and caring for patients.
*These statements have not been evaluated by the Food and Drug Administration. This product is not intended to diagnose, treat, cure or prevent any disease.
» DIRECTIONS FOR USE (ADULTS):
Take 2 capsules twice daily for daily use, one hour before or after meals.
For more severe health issues, take 3 capsules, three times daily, one hour before or after meals.
For maintenance, 1 capsule twice daily, one hour before or after meals.
For prolonged use, consult a healthcare practitioner.


» CAUTION:
Not to be taken by pregnant women or nursing mothers.
Keep out of reach of children.
OVER 30 HUMAN CLINICAL
AHCC®️ mushroom extract is composed of several species of medicinal mushrooms. AHCC®️ is unique in that while most mushrooms contain primarily Beta Glucans, AHCC®️ is rich in Alpha Glucans, a type of polysaccharide with very potent immune enhancing effects. Combining AHCC®️ with our traditional Essiac®️ formula makes Essiac Gold™ an immune support powerhouse.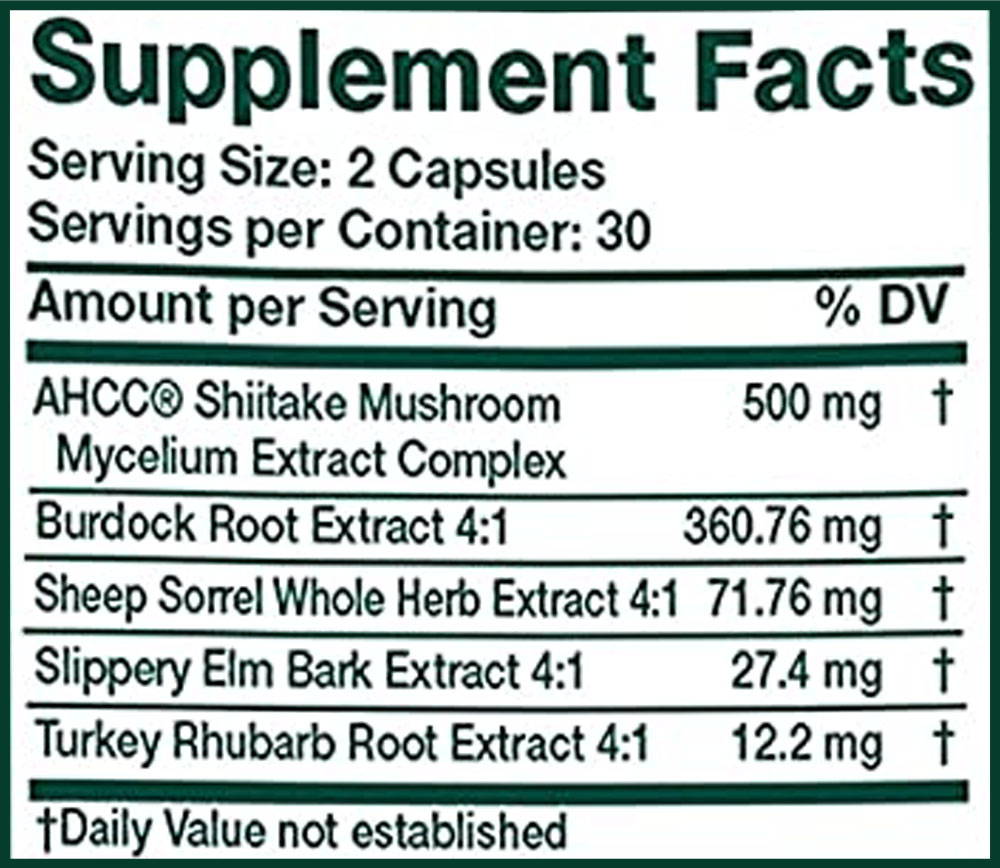 Other Ingredients: Hypromellose (capsule), Microcrystalline Cellulose, Carnauba Wax, Dextrin, Magnesium Stearate.
AHCC® is a standardized extract of cultured of hybridized medicinal mushroom mycelia (roots).
AHCC® is a registered trademark of Amino Up Co., Ltd., JAPAN.